Sweet Freedom Choc Shot Liquid Chocolate 320g
€4,95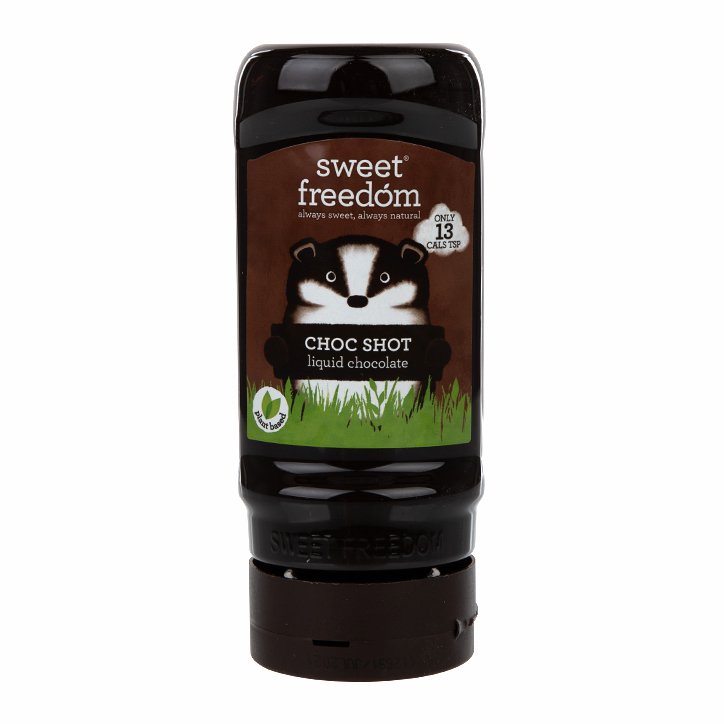 Description
Delicious liquid chocolate syrup
Suitable for diabetics and vegans100% Natural
100% natural and just 14 calories per teaspoon
Sweet Freedom Choc Shot Liquid Chocolate makes a delicious hot chocolate (with no powdery lumps!) but it's not just for drinking. If you really love chocolate you'll know what to do with it!
This liquid chocolate syrup is sweetened with Sweet Freedom's magic ingredient, Fruit Syrup. It's 100% natural with no chemical processing, additives or preservatives. What's even better is that this chocolate is suitable for vegans, is 95% fat free and has a low GL (Glycaemic Load).
Additional Info
Directions:
Suggested serving for hot chocolate: 3-4 tsp per 200ml milk. Just stir into hot milk.
Choc Shot is not just for drinking – drizzle over porridge, cereal, fruit, yoghurt, ice cream, pancakes and spread on toast … if you love chocolate you'll know what to do!
Ingredients:
Sweet Freedom® (natural fruit extracts; apples, grapes & carob), water, cocoa, rapeseed oil, natural chocolate flavour.
Remember:
Although we make every effort to ensure our product information is up to date on our website, please always read labels, warnings, and directions provided with the product before using or consuming the product.
Nutritional Information:
Per 5g:
Energy
58kJ / 13.7kcal
Protein
0.2g
Carbohydrate
2.9g
Of which sugars
2.8g
Fat
0.2g
Of which saturates
0.1g
Fibre
0.2g
Sodium
0g
Per 100g:
Energy
1160.2kJ / 274.4kcal
Protein
3.2g
Carbohydrate
57.4g
Of which sugars
56g
Fat
4.5g
Of which saturates
2.2g
Fibre
4.9g
Sodium
0g
Free From

Celery Free

Cereal Free

Crustaceans Free

Egg Free

Fish Free

Gluten Free

Kiwi Free

Lupin Free

Milk Free

Mollusc Free

Mustard Free

Nut Free

Peanut Free

Sesame Seed Free

Soya Free

Sulphites Free

Wheat Free

Peanut & Nut Free

Vegan