Naturya Chia+ Strawberry Organic 175g
€6,95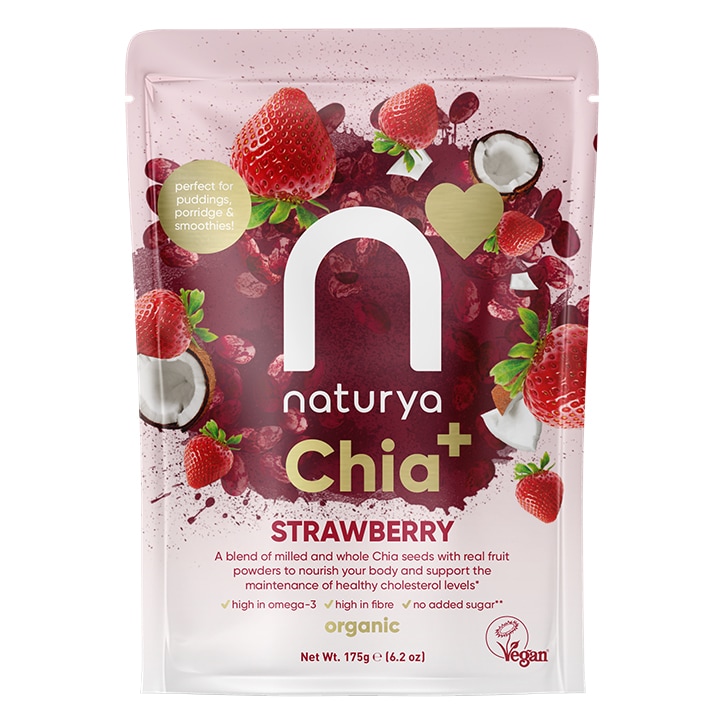 Strength, Flavor or Colour: Strawberry
Description
Naturya Chia+ Strawberry Organic 175g
Combines milled and whole Chia seeds with real strawberry powder for a fresh, fruity burst of flavour
High in omega-3 fatty acids to help support cholesterol levels
Source of magnesium, manganese and phosphorus wich contribute to normal energy yielding metabolism.
Cultivated on the sun-baked sierras of South America and named from the Mayan word for 'strength', chia seeds were prized by the Aztecs who gifted them to their Kings and ate them before going into battle. Today, chia seeds are still eaten by the Native American Tarahumara tribe, who can run distances of up to one hundred miles a day! We source Chia seeds from the beautiful surroundings of South America, where the local farmers have cultivated this powerful small seeds for generations. They have developed some impressive methods to grow the finest quality chia with no need for pesticides or chemicals.
Local South American farmers use selective breeding to build chia plants' natural resistance to pests. Once harvested, seeds are vibration-cleaned and passed over magnets to remove any small pebbles, impurities and small particles. Chia seeds are also rigorously tested for contaminants to ensure purity. We added organic fruit powders to this Chia+ pudding to ensure that it will not only support an active lifestyle but also delight your taste buds and satisfy your dessert cravings.
Packed in the UK for Naturya, Bath, BA2 7PQ. EU Naturya, c/o Global E-Commerce Experts, Rijnlanderweg 766 Unit H, 2132 NM Hoofddorp, Netherlands
Additional Info
Directions:
To create a delicious and highly nutritious chia pudding, simply mix 3.5 tablespoons (35g) of Chia+ with 120ml of your favourite milk or water, stir and cover. Keep refrigerated for 4 hours or overnight and consume within 24 hours. Store in a cool, dark and dry place. Once opened, consume within 1 month.
Ingredients:
Organic milled and whole Chia seeds [Salvia hispanica] (66%), Organic Date powder, Organic Strawberry powder (5%), Organic Coconut Milk powder, Organic Beetroot powder, Organic Lucuma powder (1%), Natural flavouring.
Advisory information:
Packed in a facility that also handles peanuts and nuts. **Contains naturally occurring sugars. Enjoy as part of a varied, balanced diet and healthy lifestyle
Remember to:
We go to great efforts to ensure that the information on this page is accurate at the time that the page was last edited. As we are constantly reviewing and developing our products to meet our consumer needs, consumers, particularly those that suffer from allergies and intolerances, should always check product labelling, warnings, and directions provided with the product that is delivered, prior to use or consumption.
Nutritional Information:
Per 100g:
Energy
1823kj / 439kcal
Fat
23g
of which saturates
4.1g
of which polyunsaturates
18g
Carbohydrates
29g
of which sugars
21g
Fibre
29g
Protein
13g
Salt
0.11g
Phosphorus
459mg (66% RI)
Magnesium
218mg (58% RI)
Copper
0.73mg (73% RI)
Manganese
1.8mg (90% RI)
Selenium
32.6ug (66% RI)
Omega 3
11.4g
Free From

Vegetarian

Vegan