The Bee Bros Biscuits with Honey & Cocoa 115g
€2,05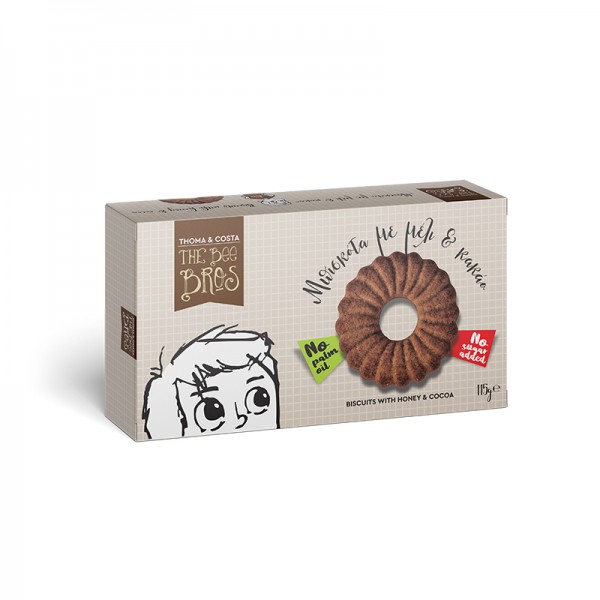 Description
Beebros Honey and Cocoa Biscuits. A healthy snack
Additional Info
Ingredients:
Wheat flour, non-hydrogenated vegetable fats (fats-sunflower oil and shea, flavoring, coloring agent - beta carotene), honey, emulsifier (mono-and diglycerides of fatty acids), whole-wheat flour 7%, corn starch, cocoa powder 2%, raising agents (sodium bicarbonate, ammonium bicarbonate), salt, pasteurized egg mélange, emulsifiers (rapeseed lecithin), sweetener (maltitol)* 6%, carob seed flour, natural flavourings.
About This Product:
No palm oil, no sugar added, non GMO, non hydrogenated fats, no preservatives
Advisory information:
May contain traces of sesame seeds, soy products, milk and nuts.
*Excessive consumption may cause laxative effects.
Nutritional Information:
Per Biscuit (4.8g):
Energy
88.5kj / 21.2kcal
Fat
0.9g
of which saturates
0.4g
Carbohydrates
3.3g
of which sugars
<0.1g
of which polyols
1.2g
Protein
0.3g
Salt
<0.1g
Per 100g:
Energy
1844.2kj / 440.8kcal
Fat
19.5g
of which saturates
8.7g
Carbohydrates
69.3g
of which sugars
0.1g
of which polyols
24.7g
Protein
6.9g
Salt
0.2g