Naturya Organic Mushroom Blend 100g
€14,95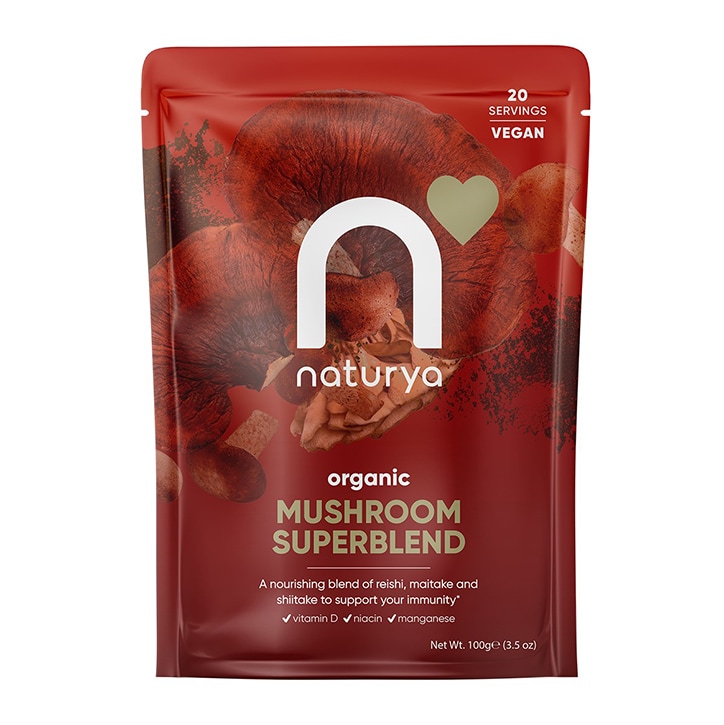 Description
A nourishing blend of reishi, maitake and shiitake to support your immunity
Source of Vitamin D to support immunity and niacin (vitamin B3) to maintain energy levels and fight fatigue.
Stir into your morning coffee or smoothie or add to stir-fries for a healthy mushroom boost
Long recognised by Far Eastern cultures for their bioactive properties, mushrooms have been skilfully cultivated and consumed in this part of the world for millennia. Reishi or Ling zhe, is one of the most revered mushrooms in Asian culture. We have combined our dried Duan log-grown red reishi with nutritional powerhouses Maitake and Shiitake to create a complementary blend of nourishing mushroom powders.
Naturally high in vitamin D2 to support the immune system, our mushroom blend is also rich in copper and manganese providing protection against oxidative stress. Two servings are a good source of niacin (vitamin B3) to maintain energy levels and fight fatigue. Source of Vitamin D to support immunity.
Additional Info
Directions:
For beneficial effect, we recommend 2 servings of 5g daily. Add to your favourite smoothie. Try mixing into your morning coffee. Add to stir-fries for a healthy mushroom boost. Mix with apple juice for a quick & healthy shot. Warm milk or your favourite alternative and whisk our Mushroom SuperBlend, Cacao powder and maple syrup for a healthy hot chocolate.
Ingredients:
Reishi powder (40%), Maitake powder (30%), Shiitake powder (30%).
Advisory information:
Packed in a facility that also handles peanuts, nuts, milk and sulphites. Store in a cool, dark, dry place. Once opened consume within 1 month. Suitable for vegetarians and vegans.
Remember to:
We go to great efforts to ensure that the information on this page is accurate at the time that the page was last edited. As we are constantly reviewing and developing our products to meet our consumer needs, consumers, particularly those that suffer from allergies and intolerances, should always check product labelling, warnings, and directions provided with the product that is delivered, prior to use or consumption.
Nutritional Information:
Per 5g:
Energy
66kj / 16kcal
Fat
<0.5g
of which saturates
<0.1g
Carbohydrates
2.3g
of which sugars
<0.5g
Fibre
1.5g
Protein
0.8g
Salt
<0.01g
Thiamin (B1)
0.020mg (1.8% RI)
Riboflavin (B2)
0.031mg (2.2% RI)
Niacin (B3)
1.7mg (11% RI)
Pantothenic Acid (B5)
0.28mg (4.7% RI)
Vitamin B6
0.015mg (1% RI)
Biotin (B7)
3.7µg (7.4% RI)
Vitamin D2
5µg (99% RI)
Copper
0.080mg (8% RI)
Manganese
0.32mg (16% RI)
Selenium
0.85µg (1.5% RI)
Per 100g:
Energy
1311kj / 312kcal
Fat
0.7g
of which saturates
0.2g
Carbohydrates
46g
of which sugars
1.8g
Fibre
29g
Protein
16g
Salt
0.09g
Thiamin (B1)
0.39mg (35% RI)
Riboflavin (B2)
0.62mg (44% RI)
Niacin (B3)
34mg (210% RI)
Pantothenic Acid (B5)
5.6mg (93% RI)
Vitamin B6
0.29mg (21% RI)
Biotin (B7)
74µg (148% RI)
Vitamin D2
99µg (1980% RI)
Copper
1.6mg (160% RI)
Manganese
6.4mg (320% RI)
Selenium
17µg (30.9% RI)