Pukka After Dinner Tea 20 Tea Bags
€3,25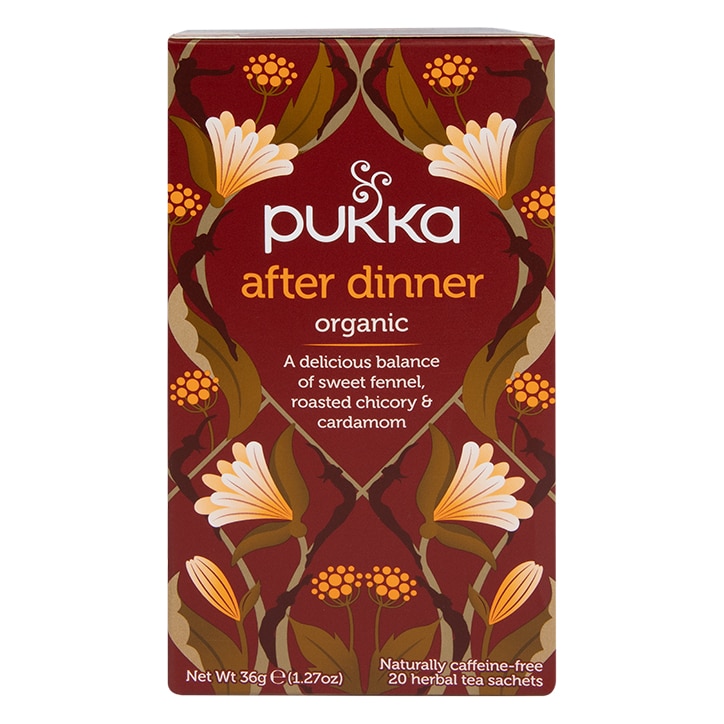 Description
Fennel seed and aniseed are deliciously sweet
Chicory is wonderfully rich and nourishing
Cardamom seed gives a soothing aromatic flavour
After Dinner is a wonderfully rich and naturally caffeine-free herbal tea. It is a unique blend of aromatic herbs - a great alternative to coffee or mint tea after a meal.
Naturally caffeine free, 100% organically grown and ethically sourced, we hope this is the best digest if you will ever taste. Plastic free teabags.
Additional Info
Ingredients:
Roasted chicory root (24%), aniseed, fennel seed (20%), licorice root, cardamom seed (8%), orange peel, ginger root.
Remember:
Although we make every effort to ensure our product information is up to date on our website, please always read labels, warnings, and directions provided with the product before using or consuming the product.
Free From

Celery Free

Cereal Free

Crustaceans Free

Egg Free

Fish Free

Gluten Free

Kiwi Free

Lupin Free

Milk Free

Mollusc Free

Mustard Free

Nut Free

Peanut Free

Sesame Seed Free

Soya Free

Sulphites Free

Wheat Free

Peanut & Nut Free