Naturya Organic Spirulina Powder 200g
€14,95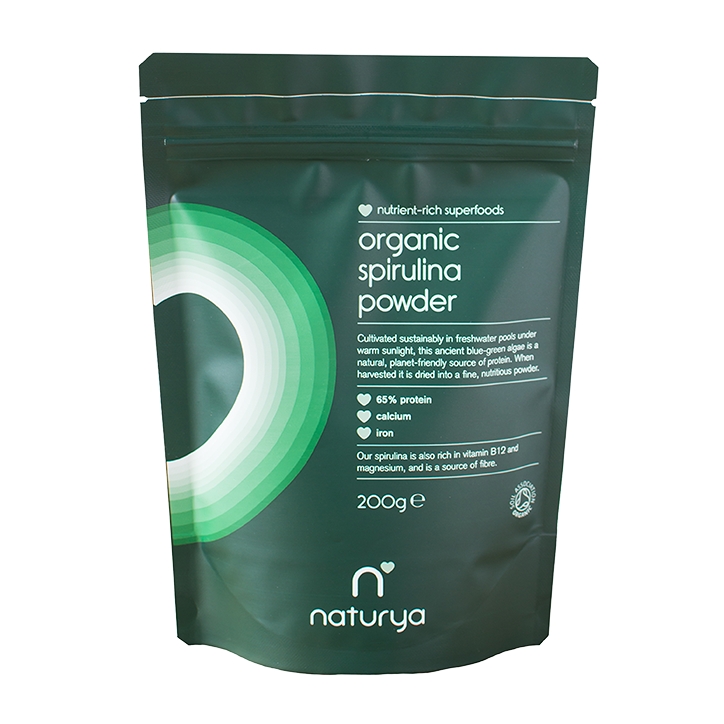 Description
Supercharge your diet with Naturya Organic Spirulina Powder
Spirulina is an ancient blue-green algae that contains a surprising amount of plant-based nutrients. This underwater wonder food is packed full of vegan protein – Naturya Spirulina Powder is 66% protein (!) – as well as fibre, B vitamins, manganese, iron and calcium.
Designed to be incorporated into the recipes you already know and love, Naturya's Spirulina powder will invigorate and revitalise your daily diet, giving you the healthy boost only nature can provide. You can trust you are getting the highest quality spirulina powder possible with Naturya, too, due to their healthy sourcing and rigorous testing.
What are the health benefits of spirulina powder?
Spirulina powder is rich in vitamin B1 (thiamine) which contributes to the normal function of the heart, psychological function and immune system
Spirulina powder is super high in plant-based protein, with 15g providing just under 10g of protein! Protein helps us to maintain muscle mass
Spirulina powder is bursting with vitamin A, which contributes to a healthy functioning immune system
Spirulina powder contains lots of iron, which helps the body feel less tired and fatigued as well as transporting oxygen around the body
Spirulina is a good source of calcium, which contributes to the maintenance of healthy bones
What is spirulina powder?
Spirulina is naturally tough and able to thrive in hostile environments that are deadly to most microorganisms. This makes it easy to organically farm without needing any chemical pesticides to sterilise it. Naturya spirulina is grown on an island surrounded by lush forest and protected from agricultural and urban pollution in the South China Sea. It is rigorously tested for lead, mercury and other contaminants to make sure it is completely pure and of the best quality.
When it's time to harvest it, Naturya farms capture the small filaments from the water, which are washed and dried to preserve its rich nutrient content. Then this fine green powder is packaged up for you to enjoy!
Contains 66% protein
Contains calcium & iron
Rich in vitamin B1
Additional Info
Directions:
Use 5 - 15 g daily
Ingredients:
100% Organic Spirulina Powder. Contains naturally occuring sulphites.
For allergens, please see ingredients in bold.
Free from:
No added ingredients. Suitable for vegetarian, vegan and Halal diets
Advisory information:
This product is packaged in a factory where nuts are also handled
Remember:
Although we make every effort to ensure our product information is up to date on our website, please always read labels, warnings, and directions provided with the product before using or consuming the product.
Nutritional Information:
Per 15g:
Energy
219kj / 52kcal
Fat
<0.5g
of which saturates
<0.1g
of which monounsaturates
<0.1g
of which polyunsaturates
<0.1g
Carbohydrates
2.3g
of which sugars
<0.5g
Fibre
0.5g
Protein
10g
Salt
0.18g
Vitamin A
553µg (69% NRV)
Thiamine (B1)
0.18mg (16% NRV)
Riboflavin (B2)
0.35mg (25% NRV)
Calcium
50mg (6.2% NRV)
Magnesium
45mg (12% NRV)
Iron
1mg (7.1% NRV)
Manganese
0.4mg (21% NRV)
Iodine
25.2 µg (17% NRV)
Per 100g:
Energy
1462kj / 345kcal
Fat
0.9g
of which saturates
0.4g
of which monounsaturates
0.4g
of which sugars
<0.5g
of which polyunsaturates
0.3g
Carbohydrates
15g
Fibre
3.5g
Protein
67g
Salt
1.2g
Vitamin A
3685µg (461% NRV)
Thiamine (B1)
1.2mg (106% NRV)
Riboflavin (B2)
2.3mg (166% NRV)
Calcium
333mg (42% NRV)
Magnesium
300mg (80% NRV)
Iron
6.6mg (47% NRV)
Manganese
2.8mg (140% NRV)
Iodine
168µg (112% NRV)
Free From

Celery Free

Cereal Free

Crustaceans Free

Egg Free

Fish Free

Gluten Free

Kiwi Free

Lupin Free

Milk Free

Mollusc Free

Mustard Free

Peanut Free

Sesame Seed Free

Soya Free

Sulphites Free

Wheat Free

Organic

Organic

Vegan