USN Diet Fuel Powder Vanilla 1kg
€30,95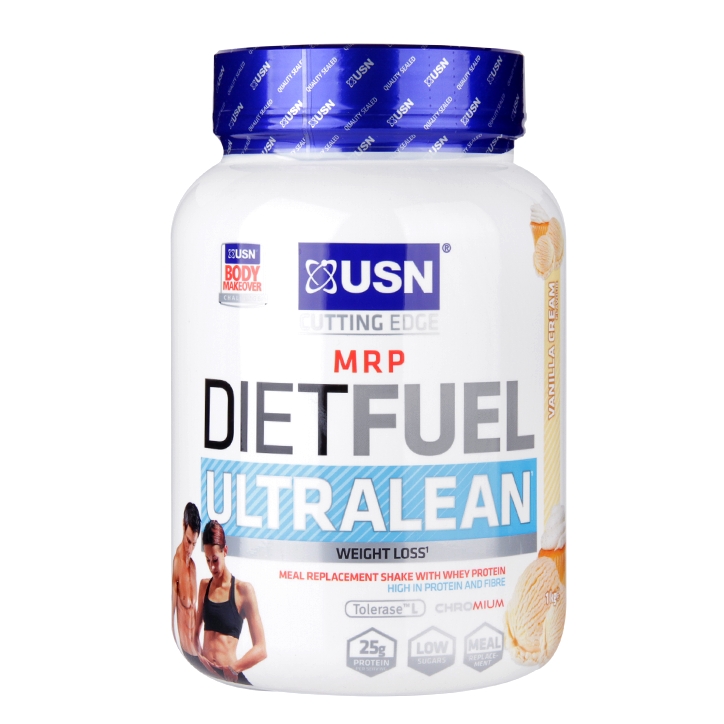 Description
Nutritious, delicious and packed with protein, USN Diet Fuel Shakes are here to help you achieve your goals
USN Diet Fuel Ultralean Nutrition is a high protein and high fibre meal replacement shake formula, which can be consumed as a convenient yet nutritious meal on the go.
This unique meal replacement formula contains vital nutrients like L-Carnitine, Chromium Picolinate, HCA (calcium hydroxycitrate), Boron and Selenium to ensure that high levels of micro-nutrients are maintained when on a strenuous exercise program.
Suitable for men and women alike, this delicious vanilla cream flavoured shake is ideal as a substitute for one of your meals at any time of the day. It contains just enough carbohydrates are used to fuel your workout and replenish depleted glycogen along with a substantial 25g of protein (per serving).
How does USN Diet Fuel work?
With its premium ingredients and intelligent formula, USN Diet Fuel Ultralean provides you with what you need on the inside to perform at your best.
This high-quality protein allows you to reach your goals and put your all into every workout.
USN Diet Fuel is Easy to Digest
This formula contains Tolerase™ L, an active lactase that turns lactose into galactose and glucose. It has been specifically developed and patented for use in sports and dietary supplements for lactose-intolerant people, allowing them to enjoy these and other dairy products.
Delicious vanilla cream flavoured meal replacement shake with whey protein
High in protein and fibre and with just 2g of fat per serving
Includes 25 vitamins and minerals, creatine, glutamine and MCT
Additional Info
Directions
Add 2 rounded 55g scoops to 200-300ml of cold water (or skimmed milk). Mix thoroughly in a blender or shaker for 30 seconds for a smooth & tasty shake. Have 1-3 servings daily.
Ingredients:
Whey protein blend (Milk) (Whey protein concentrate (Milk), Whey protein isolate(Milk)), Soy protein isolate, Calcium caseinate (Milk), Micellar casein (Milk), Maltodextrin, Fructose, Polydextrose, Fructoligosaccharides, Stabiliser: Cellulose gum, Flavourant, Anti-caking agent, Calcium phosphate, Sodium chloride, Magnesium oxide, MCT oil, Vitamin premix, Potassium chloride, Non-nutritive sweetener: Sulcralose, ZymatechTM Lactazyme Blend, Colourant: E124, Chromium picolinate.
For allergens - see ingredients in bold.
Disclaimers:
Always read the label.
Remember to:
We go to great efforts to ensure that the information on this page is accurate at the time that the page was last edited. As we are constantly reviewing and developing our products to meet our consumer needs, consumers, particularly those that suffer from allergies and intolerances, should always check product labelling, warnings, and directions provided with the product that is delivered, prior to use or consumption.
Nutritional Information
Per Serving (55g)
Energy
200kcal
Total Fat
2.7g
of which saturates
0.7g
Total Carbohydrate
17g
of which sugars
2.6g
Fibre
3.4g
Protein
25g
Salt
0.8g
Vitamin A
240µg
Vitamin D
1.7µg
Vitamin E
4mg
Vitamin C
24mg
Vitamin B1
0.3mg
Vitamin B2
0.5mg
Niacin
5.4mg
Vitamin B6
0.5mg
Folic Acid
61µg
Vitamin B12
0.8µg
Biotin
15µg
Pantothenic Acid
1.9mg
Potassium
507mg
Calcium
333mg
Phosphorus
206mg
Magnesium
113mg
Iron
4.8mg
Zinc
3mg
Copper
0.3mg
Manganese
0.6mg
Selenium
17µg
Chromium
34µg
Iodine
45µg
Garcinia cambogia extract
1g