Holland & Barrett Magnesium 375mg 30 Tablets
€4,75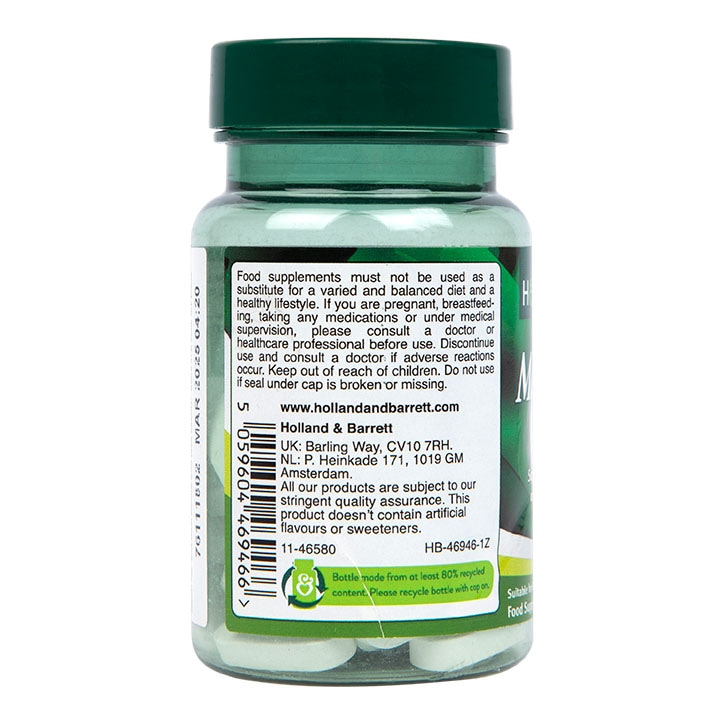 Strength, Flavor or Colour: 375
Description
What is it?
Holland & Barrett's Magnesium tablets contain 375mg of Magnesium to support muscle care. Magnesium is one of the most abundant minerals in your body. It helps with hundreds of processes, including helping enzymes that are responsible for converting food into energy and extracting nutrients.
Contributes To the Maintenance of Normal Bones and Muscles
Contributes To the Reduction of Tiredness and Fatigue
Suitable For Vegetarians and Vegans
What Are the Benefits of This Supplement?
Magnesium is important when it comes to strong bones and healthy teeth. Most Magnesium can be found in your bones; It stimulates calcitonin, which helps to keeps bones strong by absorbing calcium from the blood and directing it into your bones.
Magnesium is also present in other tissues such as your muscles and joints. As it benefits normal muscle function, it's important in the contraction and relaxation of your heart. It also works as a natural blocker to calcium – which triggers muscle contractions – helping the cells relax.
Magnesium is so important for energy release, it is also critical in a lot of other bodily processes, such as the nervous system.
Additional Info
Our promise to you:
Holland & Barrett products are subject to critically stringent quality assurance. Our commitment to quality is the highest in our industry to ensure the best quality nutritional supplements money can buy. You have our guarantee!
Directions:
Take one tablet daily, preferably with a meal. Do not exceed stated dose.
Ingredients:
Magnesium Oxide, Bulking Agent (Microcrystalline Cellulose), Anti-Caking Agents (Stearic Acid, Magnesium Stearate, Talc), Glazing Agents (Hydroxypropyl Methylcellulose, Hydroxypropyl Cellulose), Emulsifier (Sodium Carboxymethyl Cellulose), Medium Chain Triglycerides, Colour (Titanium Dioxide).
Suitable for:
Vegan
Advisory information:
Food supplements must not be used as a substitute for a varied and balanced diet and a healthy lifestyle. If you are pregnant, breastfeeding, taking any medications or under medical supervision, please consult a doctor or healthcare professional before use. Discontinue use and consult a doctor if adverse reactions occur. Keep out of reach of children. Do not use if seal under cap is broken or missing.
Remember:
Always read the label.
Nutritional Information
Each tablet contains %NRV*
Magnesium
375mg 100%