Holland & Barrett Glucosamine Chondroitin & MSM Complex Liquid 473ml
€24,95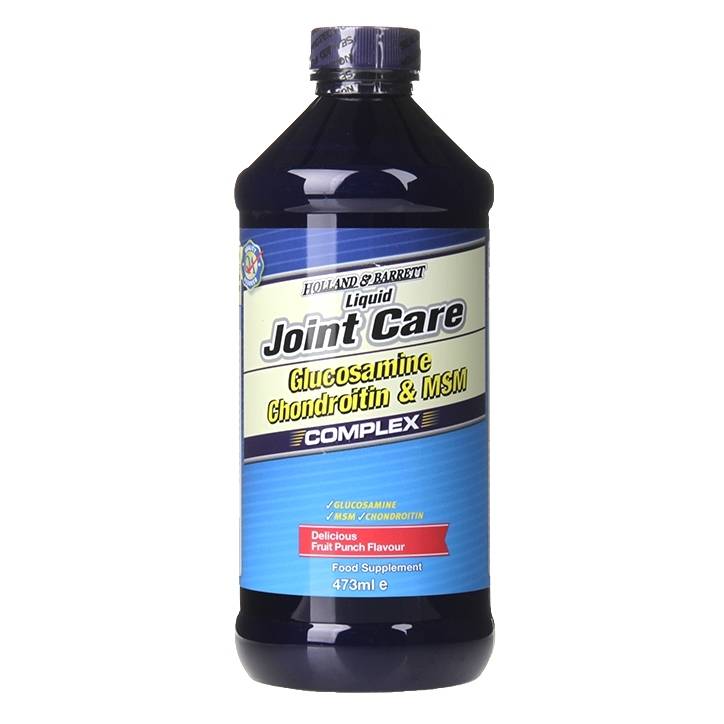 Description
A great tasting liquid blend of Glucosamine, Chondroitin and MSM
Ideal for joint, tendons, ligaments and muscles
Easy for intake in liquid format
Holland & Barrett Glucosamine Chondroitin & MSM Complex Liquid for easy intake. Glucosamine and Chondroitin are naturally found in the joints of the body. Rarely found in natural food sources, Glucosamine is a building block of cartilage and joint tissue. It is the basis of the synthesis of several important macromolecules that can be found in the synovial fluid, cartilage, tendons, ligaments and muscles. Chondroitin is the tough connective tissue within joints. A natural form of organic sulphur, MSM is one of the major building blocks of glycosaminoglycan's - key components of cartilage. The inclusion of Vitamin C in Holland & Barrett Glucosamine Chondroitin & MSM Complex liquid helps normal collagen formation for the normal function of bones and cartilage, whilst manganese contributes to the maintenance of normal bones and the normal formation of connective tissue.
Additional Info
Directions:
Shake well before using. Take one tablespoon daily, preferably with a meal. Do not exceed stated dose.
Ingredients:
Purified Water, Glycerine, Methylsulphonylmethane(MSM), Fructose, Vitamin C (as Ascorbic Acid), Glucosamine Sulphate 2KCl, Chondroitin Sulphate, Bulking Agents (Xanthan Gum, Hydroxypropyl Methylcellulose), Cetyl Myristoleate, Starch, Evening Primrose Oil, Propylene Glycol, Preservatives (Potassium Sorbate, Sodium Benzoate), Olive Oil, Flavourings, Maltodextrin, Citric Acid, Emu Oil, Emulsifier (Polysorbate 80), Cherry Fruit Concentrate, Zinc Citrate, Manganese Aspartate, Boron Citrate. Contains (or contains an ingredient/s derived from)crustaceans and celery.
Free from:
No Artificial Colours. No Milk, No Lactose, No Soya, No Gluten, No Wheat, No Yeast, No Fish, No Porcine.
Advisory information:
Food supplements must not be used as a substitute for a varied and balanced diet and a healthy lifestyle. If you are pregnant, breastfeeding or taking any medications, please consult a doctor before use. Discontinue use and consult a doctor if adverse reactions occur. Do not consume product if you have an allergy to shellfish. Consult a doctor before use if you have or have had diabetes or concerns with blood sugar levels such as hyperglycaemia or hypoglycaemia. Not intended for use by persons under the age of 18.Please consult your doctor before taking Glucosamine if currently taking Warfarin or Tetracycline. Keep out of reach of children. Store in a cool, dry place. Do not use if seal under cap is broken or missing.
Remember to:
We go to great efforts to ensure that the information on this page is accurate at the time that the page was last edited. As we are constantly reviewing and developing our products to meet our consumer needs, consumers, particularly those that suffer from allergies and intolerances, should always check product labelling, warnings, and directions provided with the product that is delivered, prior to use or consumption.
Nutritional Information
Each tablespoon (15ml) contains: %EC RDA*
Vitamin C
500mg 625%
Manganese
0.14mg 7.0%
Zinc
0.46mg 5.0%
Boron
2.4ug **
Cetyl Myristoleate
25mg **
Cherry Fruit Concentrate
25mg **
Chondroitin Sulphate
150mg **
Emu Oil
15.9mg **
Evening Primrose Oil
50mg **
Glucosamine
296mg **
(provided by Glucosamine Sulphate 2KCl 500mg)
Methylsulphonylmethane (MSM)
750mg **

*RDA=Recommended Daily Allowance
**No RDA established