Holland & Barrett ABC Plus 60 Tablets
€7,45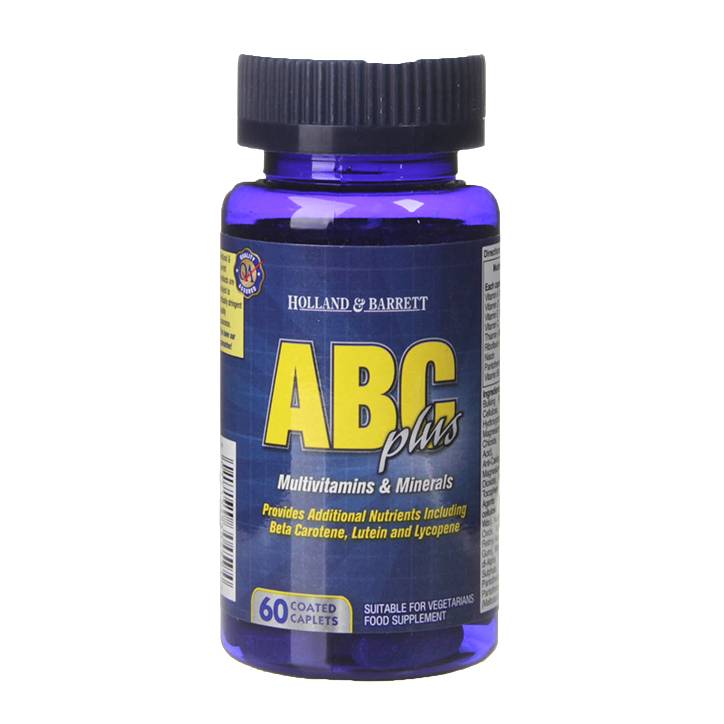 Description
Get your essential vitamins and minerals the easy way with ABC Plus Multivitamin tablets
Holland & Barrett ABC Plus Caplets are a multi-vitamin and multi-mineral formula with the addition of beta carotene, lutein and lycopene. With a new & improved formula, this food supplement provides all round nutritional support for adults in a convenient one-a-day caplet.
Enjoy the health benefits of vitamins A, D, E, C and the B vitamin family, as well as calcium, copper, iodine, iron, magnesium, zinc, and so many more minerals! It can sometimes be hard to get every single essential vitamin and mineral through your daily diet.Taking ABC Plus multivitamins provides an easy solution for you to get all the goodness of vitamins and minerals.
The new and improved ABC Plus Multivitamin formula contains added beta carotene, lutein and lycopene.
Holland & Barrett multivitamin & multimineral formula
Provides essential vitamins and minerals, as well as additional nutrients including beta carotene, lutein & lycopene
These multivitamins are suitable for vegetarians
Additional Info
Our promise to you:
Holland & Barrett products are subject to critically stringent quality assurance. You have our guarantee!
Directions:
Take one caplet daily, preferably with a meal. Do not exceed stated dose.
Ingredients:
Dicalcium Phosphate, Bulking Agents (Microcrystalline Cellulose, Dicalcium Phosphate, Hydroxypropyl Methylcellulose), Magnesium Oxide, Potassium Chloride, Vitamin C (as Ascorbic Acid), Ferrous Fumarate, Anti-Caking Agents (Stearic Acid, Magnesium Stearate, Silicon Dioxide), Vitamin E (as d-Alpha Tocopheryl Succinate), Glazing Agents (Hydroxypropyl Methylcellulose, Glycerine, Carnauba Wax), Niacin (as Niacinamide), Zinc Oxide, Vitamin A (Vitamin A (as Retinyl Acetate)), Emulsifier (Acacia Gum), Maltodextrin, Vitamin E (as dl-Alpha Tocopherol), Copper Sulphate, Manganese Sulphate, Pantothenic Acid (as d-Calcium Pantothenate), Vitamin D3 (Maltodextrin, Modified Starch, Sucrose, Corn Oil, Vitamin E (as dl-Alpha Tocopherol), Vitamin D3 (as Cholecalciferol)), Lycopene, Vitamin B6 (as Pyridoxine Hydrochloride), Lutein, Beta Carotene (Maltodextrin, Carotenoid (Dunaliella Salina), Sunflower Oil, Vitamin E (as d-Alpha Tocopherol)), Thiamin Hydrochloride (Vitamin B1), Riboflavin (Vitamin B2), Sodium Borate, Vitamin K (as Phytomenadione), Folic Acid, Chromium Picolinate, Potassium Iodide, Biotin (as d-Biotin), Sodium Molybdate, L-Selenomethionine, Vitamin B12 (as Cyanocobalamin).
Advisory information:
Food supplements must not be used as a substitute for a varied and balanced diet and a healthy lifestyle. If you are pregnant, breastfeeding, taking any medications or under medical supervision, please consult a doctor or healthcare professional before use. Discontinue use and consult a doctor if adverse reactions occur. Pregnant Women: Do not take this product if you are pregnant or likely to become pregnant. Pregnant women should not supplement with more than 800μg (2,664 I.U.) preformed Vitamin A daily except on the advice of a doctor or ante-natal clinic. Children: Close tightly and keep out of sight and reach of children. Contains Iron, which can be harmful to children in large doses. In case of accidental overdose, contact your doctor or nearest Hospital Casualty Department immediately. Diabetics/Hypoglycemics: Use only under a doctor's supervision because this product contains chromium which may enhance insulin sensitivity and may affect your blood glucose levels. All supplements containing Vitamin A (preformed Retinol) are best avoided by those who regularly eat liver and products made from liver. Store in a cool, dry place. Do not use if seal under cap is broken or missing.
Remember to:
We go to great efforts to ensure that the information on this page is accurate at the time that the page was last edited. As we are constantly reviewing and developing our products to meet our consumer needs, consumers, particularly those that suffer from allergies and intolerances, should always check product labelling, warnings, and directions provided with the product that is delivered, prior to use or consumption.
Nutritional Information
Each caplet contains: %NRV*
Vitamin A
692μg RE (2,306 I.U.) 86%
Beta Carotene
0.2mg **
Vitamin D
10μg (400 I.U.) 200%
Vitamin E
10mg α-TE (14.9 I.U.) 83%
Vitamin C
60mg 75%
Thiamin (Vitamin B1)
1.4mg 127%
Riboflavin (Vitamin B2)
1.6mg 114%
Niacin
18mg NE 113%
Pantothenic Acid
6mg 100%
Vitamin B6
2mg 143%
Vitamin B12
1μg 40%
Folic Acid
400μg 200%
Biotin
150μg 300%
Vitamin K
30μg 40%
Calcium
162mg 20%
Chromium
25μg 63%
Copper
2mg 200%
Iodine
150μg 100%
Iron
14mg 100%
Magnesium
100mg 27%
Manganese
2.5mg 125%
Molybdenum
25μg 50%
Phosphorus
125mg 18%
Selenium
25μg 45%
Zinc
15mg 150%
Boron
0.07mg **
Lutein
0.25mg **
Lycopene
0.3mg **
*NRV = Nutritional Reference Value ** No NRV established