Viviscal Healthy Hair Vitamins 30 Tablets
€34,95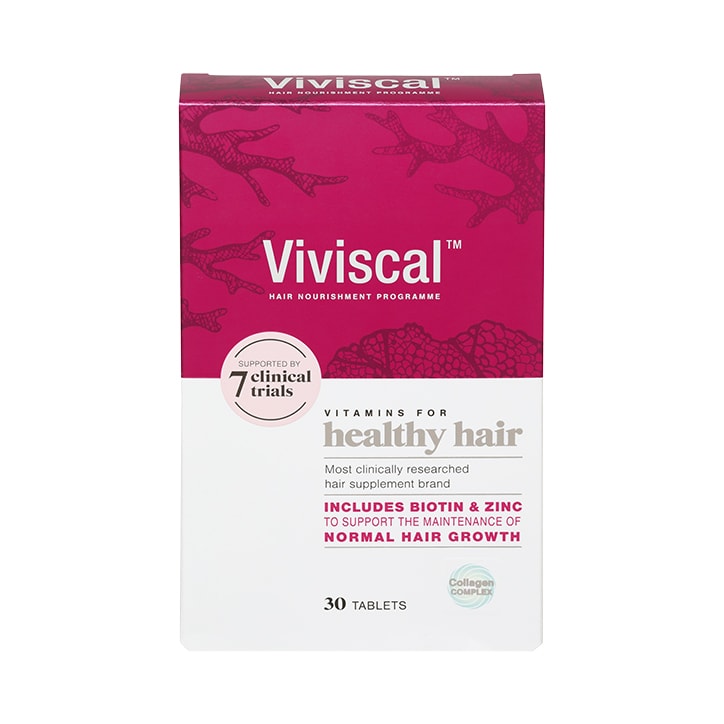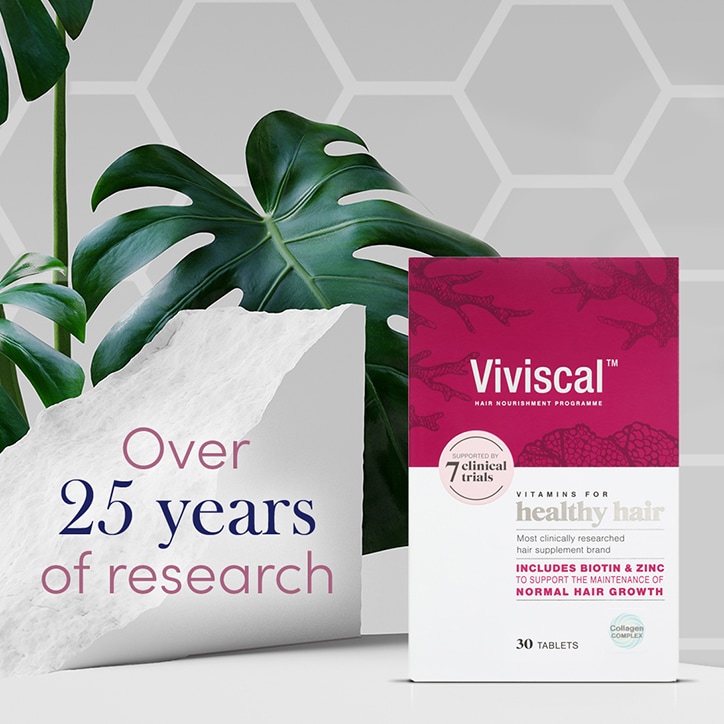 Description
Viviscal Healthy Hair Vitamins 30s
The UK's most clinically reserached hair supplement brand**
Contains Biotin and Zinc to contribute to the maintenance of normal hair growth*
Backed by over 25 years of research and development.
Backed by over 25 years of research and development.
Viviscal™ Healthy Hair Supplements have been scientifically formulated for women. They are packed full of essential vitamins and minerals which, alongside a healthy diet and lifestyle, help to maintain normal, healthy hair growth by nourishing from within. The key ingredient is the rich marine collagen complex AminoMar C™ which is unique to Viviscal™. This is blended with a host of other ingredients known to help support healthy hair such as biotin, zinc, iron, silica, vitamin C and antioxidant-rich millet seed extract.
Church & Dwight UK Ltd, Wear Bay Road, Folkestone, CT19 6PG, UK. SOFIBEL SAS, 110 to 114 rue Victor Hugo, 92686 Levallois-Perret.
Additional Info
Directions:
Daily recommended Intake: Take two tablets daily for a minimum of 3-6 months (1 in the morning and 1 in the evening, with water after food). Thereafter take 1-2 tablets daily as required. Store in a cool dry place.
Advisory Information:
The product contains iron which, if taken in excess, may be harmful to very young children and may casue mild stomach upset in sensitive individuals. Keep out of sight and reach of children. Not recommended if you are pregnant or breast feeding. Food supplements must not be used as a substitute for a varied and balanced lifestyle. Consult your doctor if on medication. Do not exceed the recommend daily intake. Do not use if blister seal is cut, torn, or broken.
Ingredients:
Collagen Complex (AminoMar C™) (molluscs), Bulking Agents (Microcrystalline Cellulose, Hydroxypropyl Cellulose, Cross-linked Sodium Carboxy Methyl Cellulose), Vitamin C (L-ascorbic acid), Common Horsetail (Equisetum arvense L.) Extract, Ferrous Fumarate, Glazing Agents (Methyl Cellulose, Glycerin), Anti-Caking Agents (Silicon Dioxide, Magnesium Salts of Fatty Acids), Zinc Oxide, Niacin (as Nicotinamide [Vitmain B3]), Acerola (Malpighia glabra L.) Fruit Powder, Millet Seed Extract, Silicon Dioixde, Maltodextrin, Orange Flavouring, Natural Lemon Flavouring, Masking Flavouring, D-Biotin.
Allergy advice& ; please see ingredients in bold above.
Nutritional Information
Two Tablets Contain: %NRV*
-
Collagen Complex AminoMarcC™ 747mg
Vitamin C
82.2mg (103%)
Niacin
16.8mg (105%)
Biotin
160µg (320%)
Iron
14mg (100%)
Zinc
15.4mg (154%)
Horsetail Extract
51.2mg
Milled Seed Extract
10.4mg