Holland & Barrett Cod Liver Oil with Multi Vitamins 180 Capsules 500mg
€20,45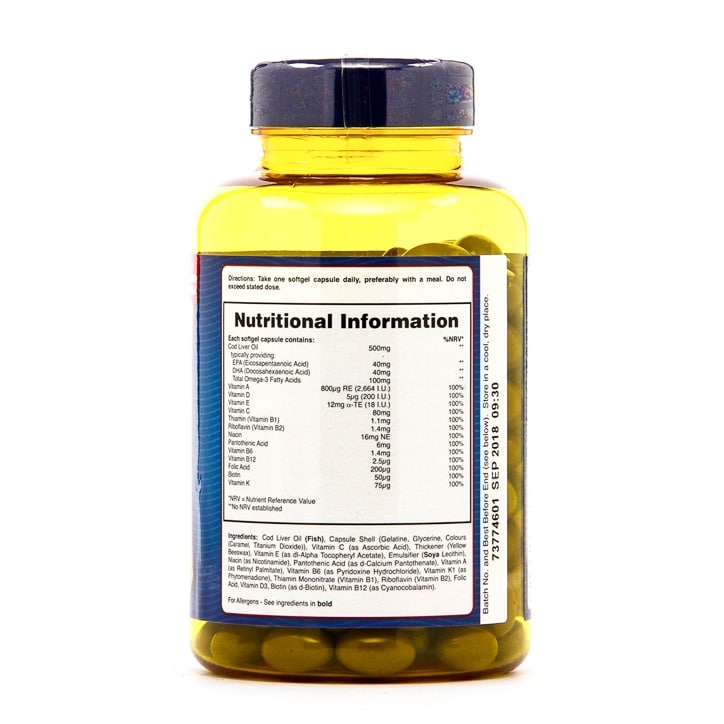 Description
Pure cod liver oil containing omega-3
One of the richest natural sources of Vitamins A & D
Contributes to normal skin, vision, bones and teeth.
Holland & Barrett's Pure Cod Liver Oil is high in essential omega-3 fatty acids and is also an excellent source of Vitamins A and D. Contains the essential fatty acids DHA and EPA. DHA contributes to the maintenance of normal brain function and vision. These beneficial effects are obtained with a daily intake of 250mg of DHA. When combined, EPA and DHA contribute to the normal function of the heart.
Both Vitamins A and D contribute normal immune system function. Vitamin A also contributes to the maintenance of normal skin, whilst Vitamin D contributes to the maintenance of normal bones and muscle function.
Additional Info
Our promise to you:
Holland & Barrett products are subject to critically stringent quality assurance. Our commitment to quality is the highest in our industry to ensure the best quality nutritional supplements money can buy. You have our guarantee!
Directions:
Take one softgel capsule daily, preferably with a meal. Do not exceed stated dose.
Ingredients:
Cod Liver Oil (Fish), Capsule Shell (Gelatine, Glycerine, Colours (Caramel, Titanium Dioxide)), Vitamin C (as Ascorbic Acid), Distilled Monoglycerides, Niacin (as Nicotinamide), Vitamin E (Vitamin E (as d-Alpha Tocopherol), Soya Bean Oil), Emulsifier (Soya Lecithin), Pantothenic Acid (as d-Calcium Pantothenate), Vitamin B6 (as Pyridoxine Hydrochloride), Riboflavin (Vitamin B2), Vitamin K1 (Maltodextrin, Vitamin K1 (as Phytomenadione)), Thiamin Mononitrate (Vitamin B1), Vitamin A (as Retinyl Palmitate), Folic Acid, Vitamin D3 (Medium Chain Triglycerides, Vitamin D3 (as Cholecalciferol), Vitamin E (dl-Alpha Tocopherol)), Biotin (as d-Biotin), Vitamin B12 (as Cyanocobalamin).
For Allergens - see ingredients in bold
Free from:
No Artificial Flavours or Preservatives. No added Sugar, Sweetener or Salt. No Porcine. No Yeast.
Advisory information:
Food supplements must not be used as a substitute for a varied and balanced diet and a healthy lifestyle. If you are pregnant, breastfeeding, taking any medications or under medical supervision, please consult a doctor or healthcare professional before use. Discontinue use and consult a doctor if adverse reactions occur. Pregnant Women: Do not take this product if you are pregnant or likely to become pregnant. Pregnant women should not supplement with more than 800µg (2,664 I.U.) preformed Vitamin A daily except on the advice of a doctor or antenatal clinic. All supplements containing Vitamin A (preformed Retinol) are best avoided by those who regularly eat liver and products made from liver. Keep out of reach of children. Do not use if seal under cap is broken or missing.
Remember to:
We go to great efforts to ensure that the information on this page is accurate at the time that the page was last edited. As we are constantly reviewing and developing our products to meet our consumer needs, consumers, particularly those that suffer from allergies and intolerances, should always check product labelling, warnings, and directions provided with the product that is delivered, prior to use or consumption.
Nutritional Information
Each softgel capsule contains: %NRV*
Cod Liver Oil
500mg **
typically providing:
EPA (Eicosapentaenoic Acid)
40mg **
DHA (Docosahexaenoic Acid)
50mg **
Total Omega-3 Fatty Acids
100mg **
Vitamin A
800μg RE (2,664 I.U.) 100%
Vitamin D
5μg (200 I.U) 100%
Vitamin E
12mg α-TE (18 I.U.) 101%
Vitamin C
80mg 100%
Thiamin (Vitamin B1)
1.1mg 100%
Riboflavin (Vitamin B2)
1.4mg 100%
Niacin
16mg NE 100%
Pantothenic Acid
6mg 100%
Vitamin B6
1.4mg 100%
Vitamin B12
2.5μg 100%
Folic Acid
200μg 100%
Biotin
50μg 100%
Vitamin K
75μg 100%
*NRV = Nutrient Reference Value ** No NRV Established