Pukka Herbs Womankind Menopause 30 capsules
€21,95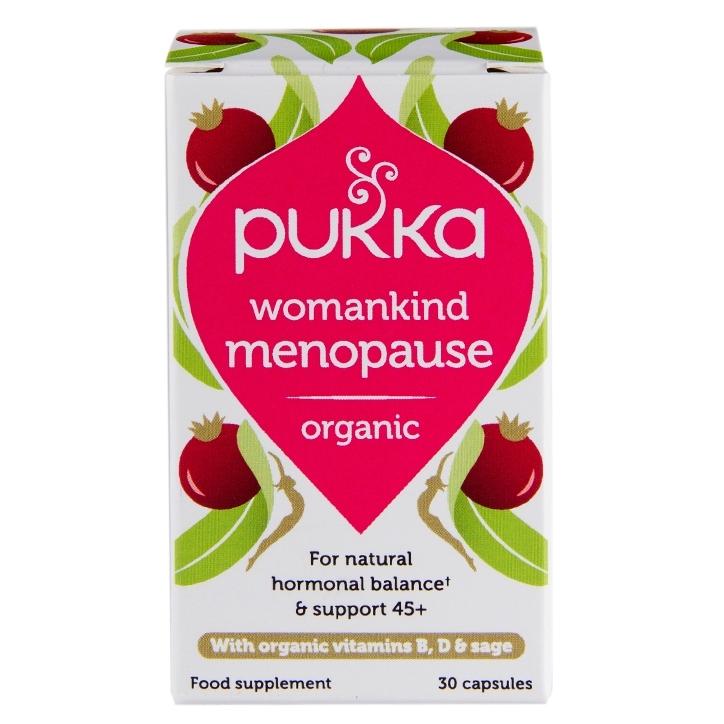 Description
An organic herbal formula developed especially for women
Nourishing, organic botanicals to support you through your menopausal journey.
Vegetarian and vegan friendly
Womankind Menopause is targeted towards women who are going through menopause.
This botanical formula with organic vitamins B and D help alleviate symptoms of the menopause and the regulation of hormonal activity.
Additional Info
Directions:
Take 1-2 capsules twice a day with water or Pukka Organic Aloe Vera Juice before food.
Remember to:
We go to great efforts to ensure that the information on this page is accurate at the time that the page was last edited. As we are constantly reviewing and developing our products to meet our consumer needs, consumers, particularly those that suffer from allergies and intolerances, should always check product labelling, warnings, and directions provided with the product that is delivered, prior to use or consumption.
Advisory information:
Store away from direct sunlight below 30°C.Keep out of reach of young children. Seek professional advice during pregnancy. Do not exceed the recommended daily intake. Do not use this product as a substitute for a varied diet.
Suitable for:
Vegans
Ingredients:
Shatavari root* 31%, Sage leaf* 19%, Shatavari root wholistic extract*_10%, Ashwagandha root*, Turmeric root wholistic extract*_, Ashwagandha root wholistic extract*_, Aloe Vera juice concentrate*, Seagreens® Arctic fresh seaweed*, Vitamin D2 (Mushroom)* 3%, Spirulina*, Ginger root*, Vegetable cellulose capsule (hydroxypropyl methyl cellulose).
Nutritional Information
Per Maximum Daily Serving (2 capsules)
Energy (Kj/kcal)
15.34kJ/3.64kcal
Fat
0.02g Of which saturates 0.004g
Carbohydrate
0.71g Of which sugars 0.07g
Protein
0.06g Salt 0.01g
Vitamin B1 (thiamin)
1.32mg / 120% NRV
Vitamin B2 (riboflavin)
1.20mg / 86% NRV
Vitamin B5 (pantothenic acid)
2.28mg / 38% NRV
Vitamin B6
1.32mg / 94% NRV
Folic acids (as natural folates)
42mg / 21% NRV
Vitamin D2
4.5mg / 90% NRV
*NRVs = Nutrient reference values