Applied Nutrition Keto Collagen 325g
€30,95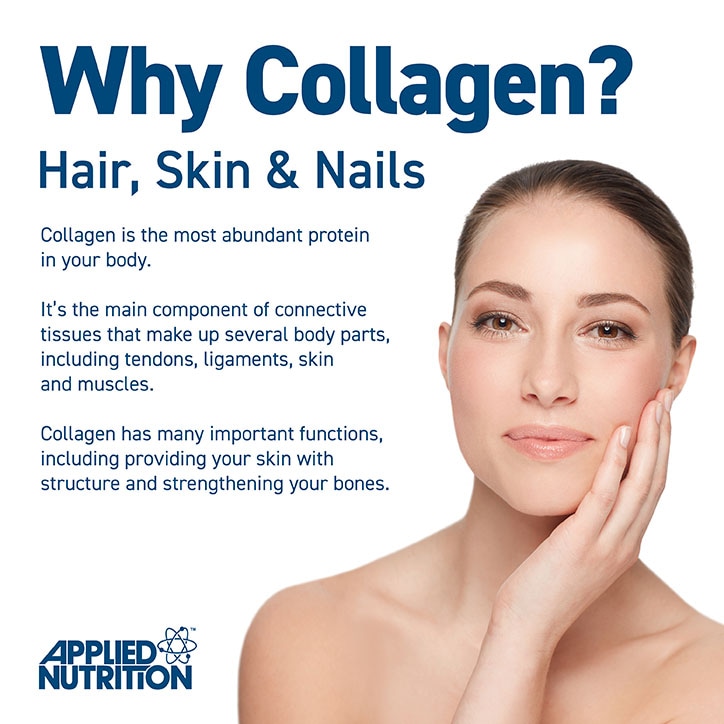 Strength, Flavor or Colour: Unflavoured
Description
Applied Nutrition Keto Collagen
Youthful appearance, fresh & firm looking skin
Supports bones & joints
Free from fat, sugar, cholesterol, purines & additives
Look & Feel your Best: Applied Nutrition Hydrolysed Bovine Collagen Peptides are neutral in flavour and perfect for adding to water, coffee, smoothies, recipes, yoghurts and more.
Our Collagen Peptides can be mixed in hot or cold liquids and can be used any time during the day.
Applied Nutrition Webber Estate Knowsley Liverpool L33 7SQ England
Additional Info
Directions:
Mix 2 scoops (20g) into your favourite hot/cold beverage or food daily and mix thoroughly. Helpful Tip: Try to keep all cold beverages to room temperature (Collagen Peptides may clump in very cold water).
Advisory Information:
Check with a qualified health professional before using this product if you are under the age of 18, pregnant or nursing a baby or if you have any known or suspected medical condition(s) and or are taking any prescription or OTC medication(s). Not to be used as a substitute for a varied diet and healthy lifestyle. Store this product in a cool dry place, away from children. Do not exceed suggested use.
Ingredients:
Hydrolysed Bovine Collagen Peptides (100%).
Suitable for:
Soy free, Dairy free, Halal
Remember to:
We go to great efforts to ensure that the information on this page is accurate at the time that the page was last edited. As we are constantly reviewing and developing our products to meet our consumer needs, consumers, particularly those that suffer from allergies and intolerances, should always check product labelling, warnings, and directions provided with the product that is delivered, prior to use or consumption.
Nutritional Information
| | |
| --- | --- |
| Fat | 23.1g / 3g |
| Carbohydrates | 0g / 0g |
| Protein | 69.23g / 9g |
| Salt | 1.08g / 0.14g |
| Per | 100g / 13g (Per serving) |
| Energy Kj | 1977kj / 257kj |
| Energy Kcal | 470kcal/ 61kcal |
| of which: saturates | 23.1g / 3g |
| Sugar | 0g / 0g |
| Fibre | 0g / 0g |
Free From
Dairy Free

Gluten Free