H&B Expert Marine Collagen Orange Liquid 10 Sachets
€30,95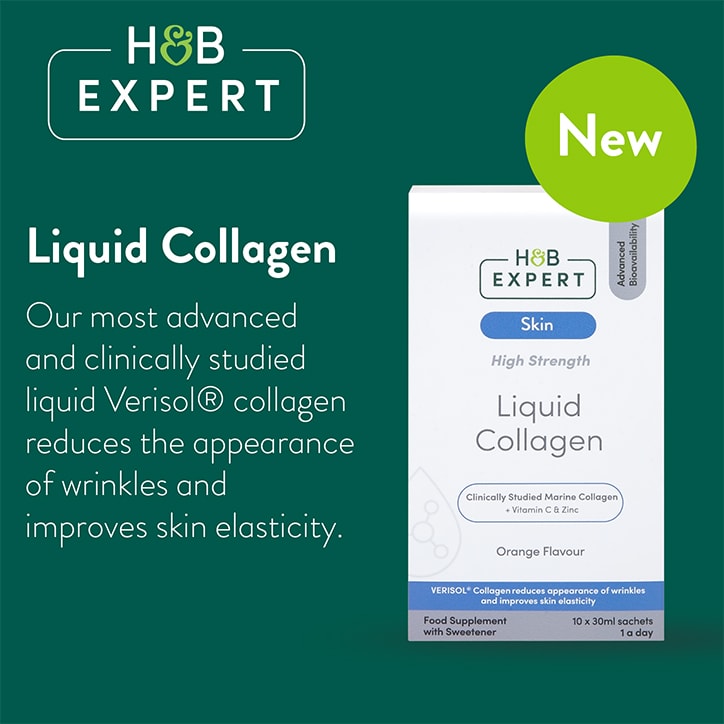 Strength, Flavor or Colour: Orange
Description
Holland & Barrett Expert Marine Collagen Liquid Sachets features our most advanced and clinically studied liquid, Verisol collagen, to support with the appearance of wrinkles and your skin's elasticity.
Get your daily dose of high strength collagen in this quick and easy, liquid collagen drink.
It has advanced bioavailability, which means that it is easily absorbed into the body and is one of the best liquid collagen supplements available on the market.
Collagen in the body
Collagen makes up a third of the total protein within the human body and three quarters of the skin.
Collagen already exists within the body and the body produces it too. Think of it almost like scaffolding.
As we get older, the existing collagen within our bodies naturally starts to break down and our natural collagen production also begins to slow. This leads to normal signs of ageing, especially within the joints and the skin.
Taking a collagen supplement can help to top these levels up.
Looking and feeling good
How you look on the outside is often a good indicator of your overall health. Liquid collagen supplements can help to nourish you from the inside out, with their high strength, daily dose of collagen, vitamins and minerals.
Add these handy little sachets to your daily routine, to keep you feeling good on the inside and looking great.
Liquid collagen benefits
Verisol collagen helps to reduce the appearance of fine lines and wrinkles and assists with the elasticity of the skin. As well as this, it also contributes to the improved growth of your fingernails.
As well as high quality, clinically studied marine collagen, Holland & Barrett Expert Marine Collagen Liquid Sachets also contains skin supporting nutrients, such as vitamin C and zinc.
Vitamin C, also known as ascorbic acid, contributes to normal collagen formation, which helps to support the normal function of the skin.
Essential mineral, zinc, also contributes to the maintenance of normal skin.
Taking liquid collagen for skin
Each of these sachets provides a whopping 5000mg of collagen, perfect if you are looking for a high dosage collagen supplement.
What's more, it is super easy to fit Holland & Barrett Expert Marine Collagen Liquid Sachets into your daily routine, no matter how busy you are.
You just need to take one of the 30ml sachets each day, preferably with a meal, to help top up your collagen levels.
This liquid marine collagen supplement has a great tasting orange flavour and is super portable – just pop a sachet in your bag, to drink on the go. It is just like having a refreshing fruity drink, with added benefits.
Liquid collagen supplements are also a great alternative to collagen capsules or tablets, if are not a fan of swallowing pills.
Additional Info
Directions:
Take 30 Liquid Serving Size ML per day, preferably with a meal. Do not exceed stated dose.
Advisory Information:
Food supplements must not be used as a substitute for a varied and balanced diet and a healthy lifestyle. If you are pregnant, breastfeeding, taking any medications or under medical supervision, please consult a doctor or healthcare professional before use. Discontinue use and consult a doctor if adverse reactions occur. Keep out of reach of children. Do not use if seal under cap is broken or missing.
Ingredients:
Water , Verisol® Collagen(Fish), Acidity Regulators (Citric Acid, Sodium Citrate), Thickener (Sodium Carboxymethyl Cellulose), Vitamin C (L-Ascorbic Acid), Orange Flavour, Beta Carotene, Preservatives (Potassium Sorbate, Sodium Benzoate), Zinc Oxide, Sweetener (Sucralose). For Allergens, see ingredients in bold.
Remember to:
We go to great efforts to ensure that the information on this page is accurate at the time that the page was last edited. As we are constantly reviewing and developing our products to meet our consumer needs, consumers, particularly those that suffer from allergies and intolerances, should always check product labelling, warnings, and directions provided with the product that is delivered, prior to use or consumption.
Nutritional Information
Each 30ml Liquid Sachet Serving contains:
Vitamin C
80 mg 100%
Zinc
10 mg 100%
Verisol® Collagen
5000 mg **