Holland & Barrett Vitamin B12 100ug 60 Tablets
€8,95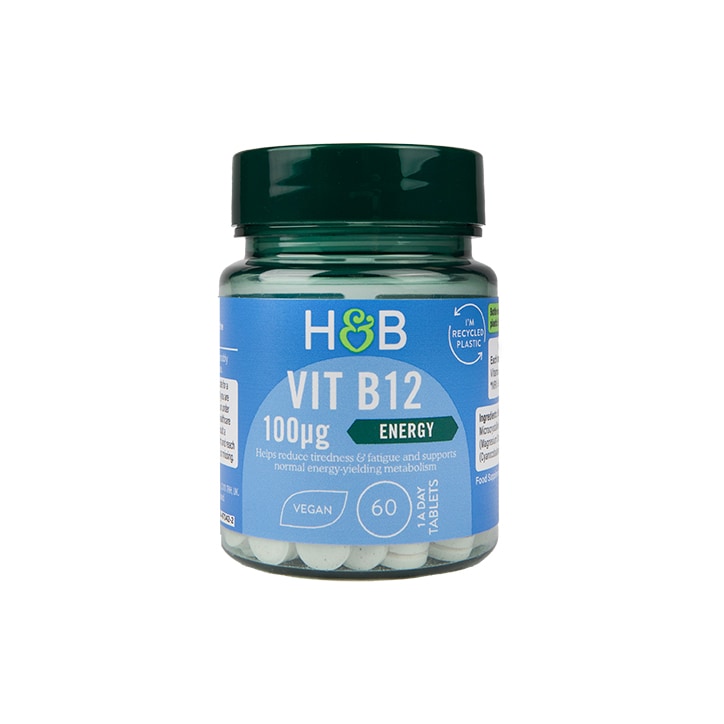 Description
What is vitamin B12?
Vitamin B12, or cobalamin as it is also known, is an essential nutrient, which means that although your body requires it for certain processes, it cannot synthesize it itself and therefore has to get its daily supply via your diet.
Vitamin B12 is found naturally in some foods and is also available as a supplement in tablet form, which you can take to keep your levels of this important vitamin topped up.
What are the benefits of vitamin B12?
Vitamin B12 helps to reduce feelings of tiredness and fatigue and supports normal energy-yielding metabolism.
Vitamin B12 plays an important role in a number of the body's processes. For example, it helps to support the normal creation of both DNA and red blood cells.
Which foods naturally contain vitamin B12?
Vitamin B12 is naturally found in foods including meat, fish, milk, cheese and eggs. It is also added to some fortified foods including breakfast cereals, to improve their nutritional profile.
Given it mostly occurs in meat or animal derived products, it may be difficult for anyone following a plant-based or vegetarian diet to get all the vitamin B12 that their body needs without taking an additional dietary supplement.
How much vitamin B12 should I take each day?
The NHS recommends that adults aged between 19 and 64 need to take around 1.5 micrograms of vitamin B12 each day.
If your diet includes plenty of vitamin B12 containing foods, then you shouldn't need to add a supplement into your daily routine.
However, a vitamin B12 supplement is a good way of adding more to your body if you don't get enough through your diet alone.
If you don't get enough vitamin B12 each day that you could risk developing a deficiency. Vitamin B12 insufficiency and deficiency are relatively common. They occur when your body has low B12 levels and this is mainly due to not getting enough of this vitamin through the diet alone.
How should I take Holland & Barrett Vitamin B12 100μg?
It is recommended that you take one Holland & Barrett Vitamin B12 100μg tablet per day. Each of these vitamin B12 tablets contains 100μg of B 12 vitamin.
Vitamin B12 is a water-soluble vitamin which means that your body needs water to absorb it. Therefore, you should take a B12 supplement with a glass of water on an empty stomach.
The best time to take a vitamin B12 supplement is in the morning so that it doesn't affect your sleep. You may want to take it at the same time each day, for example, as part of your morning breakfast routine.
Is Holland & Barrett Vitamin B12 100μg suitable for vegans?
Yes, Holland & Barrett Vitamin B12 100μg is suitable for anyone following either a vegan or a vegetarian diet as it does not contain any animal products within its formulation.
It's an especially good idea for vegans to think about taking a vitamin B12 supplement as it can be difficult for them to get all the vitamin B12 they need through their diet alone. This is because most food sources of vitamin B12 including meat, fish, dairy products, and eggs are not plant-based.
Additional Info
Directions:
Take 1 Tablet/tablets per day, preferably with a meal. Do not exceed stated dose.
Ingredients:
Bulking Agent (Dicalcium Phosphate, Microcrystalline Cellulose), Anti-Caking Agent (Silicon Dioxide, Magnesium Stearate), Vitamin B12 (Methylcobalamin).
Suitable for:
Vegan / Vegetarian
Advisory information:
Food supplements must not be used as a substitute for a varied and balanced diet and a healthy lifestyle. If you are pregnant, breastfeeding, taking any medications or under medical supervision, please consult a doctor or healthcare professional before use. Discontinue use and consult a doctor if adverse reactions occur. Keep out of reach of children. Do not use if seal under cap is broken or missing.
Remember to:
We go to great efforts to ensure that the information on this page is accurate at the time that the page was last edited. As we are constantly reviewing and developing our products to meet our consumer needs, consumers, particularly those that suffer from allergies and intolerances, should always check product labelling, warnings, and directions provided with the product that is delivered, prior to use or consumption.
Nutritional Information
Each tablet contains: %NRV*
Vitamin B12
100μg 4,000%
*NRV = Nutritional Reference Value
Free From

Vegan