Bioglan Family Multivitamin 60 Vitagummies
€14,95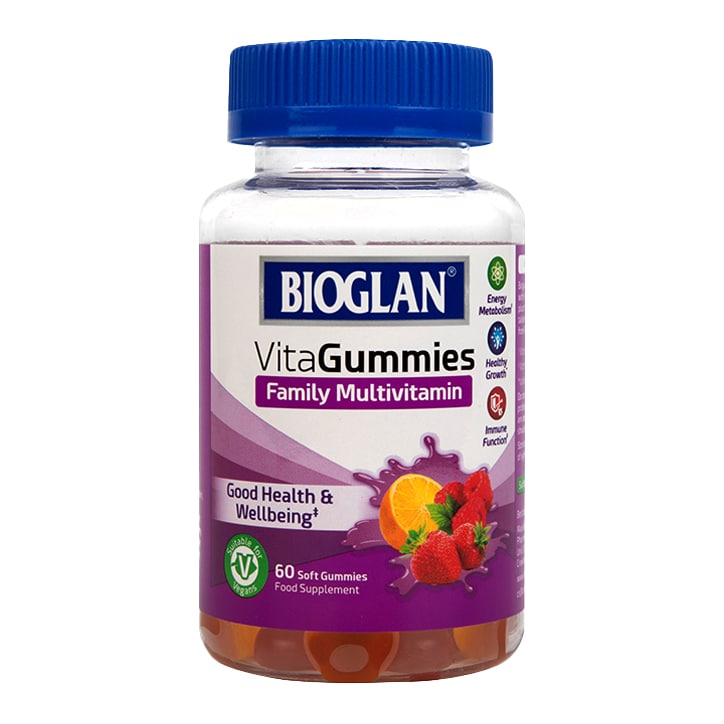 Description
Great tasting vegetarian gummies that the whole family will love
Delicious lemon, raspberry & strawberry flavoured gummies
Vitamin B1 contributes to normal energy yielding metabolism and Vitamin D3 contributes to the normal function of the immune system
Bioglan's Family Multivitamin VitaGummies are specially formulated with 9 key nutrients to help top up your families vitamin and mineral levels, plus they are so easy to take- no water and no swallowing difficult tablets! Best part is Bioglan Family Multivitamin gummies are made from Pectin- perfect for vegetarians!
Vitality - Vitamin B1 helps reduce tiredness & fatigue & contributes to the release of energy from food Wellbeing - B12 support normal psychological function Nervous System - Vitamin B1 helps support the working of the nervous system Teeth - Vitamin D helps support healthy teeth Immune System - Vitamin C helps support the immune system Skin - Niacin helps support healthy skin, Vitamin C helps collagen formation for healthy skin & Vitamin E contributes to antioxidant protection of cells Bones & Muscles - Vitamin D helps absorption of calcium & helps suport healthy bones & muscle fucntion Growth - Iodine contributes to the normal growth of children
Additional Info
Directions:
Adults and Children 12+: Take 2 gummies per day. Children 4-12 Take 1-2 gummies per day.
Ingredients:
Malt syrup, sugar, glucose syrup, thickener (pectin), acidity regulator (citric acid, sodium citrate), niacinamide, strawberry flavour, raspberry flavour, lemon flavour, glazing agents (vegetable oil, carnauba wax), D-alpha-tocopheryl acetate, thickener (pectin), colours (beta carotene, black carrot juice concentrate), folic acid, potassium iodide, biotin, cholecalciferol, cyanocobalamin, thiamine hydrochloride.
Advisory information:
Do not exceed recommended daily dose. Keep out of sight and reach of children. Consult your healthcare professional before taking if you are pregnant, breast feeding, under medical supervision or on medication.
Remember to:
We go to great efforts to ensure that the information on this page is accurate at the time that the page was last edited. As we are constantly reviewing and developing our products to meet our consumer needs, consumers, particularly those that suffer from allergies and intolerances, should always check product labelling, warnings, and directions provided with the product that is delivered, prior to use or consumption.