Nature's Garden Fast Acting Liquid Vitamin D3 60ml
€15,95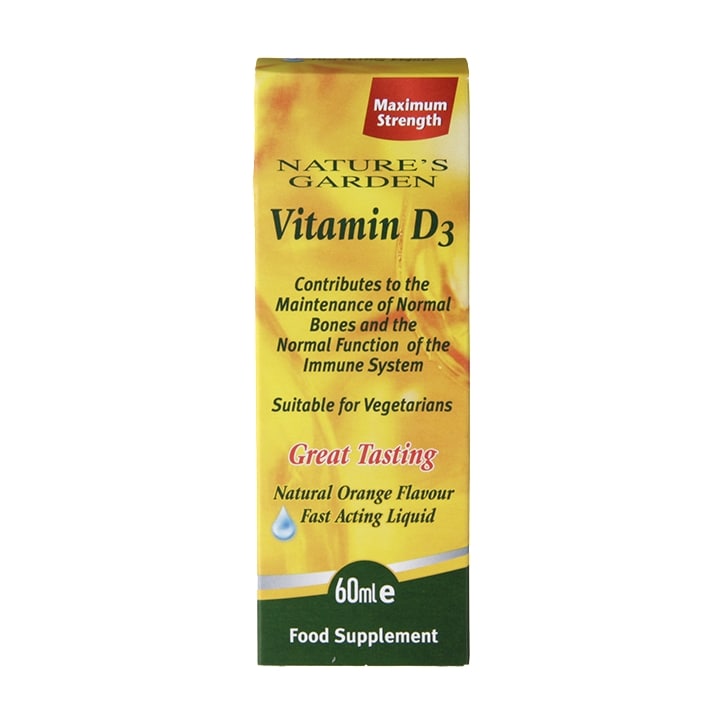 Description
Orange flavour liquid vitamin D3 - ideal for those who can't swallow tablets
Supports bone and immune system health
Suitable for vegetarians
Our Vitamin D3 liquid drops are quickly absorbed, have a great tasting orange flavour and are suitable for Vegetarians. You can also alter the amount taken daily to provide you with the specific level of Vitamin D you require.
Vitamin D, also known as the sunshine vitamin, is produced by the skin when in contact with sunlight. In the UK, our skin isn't able to make vitamin D from winter sunlight (November to March) as the sunlight hasn't got enough UVB (ultraviolet B) radiation, making vitamin D supplements even more important.
Additional Info
Directions:
Take four to ten drops daily, preferably with a meal. Can be mixed in your favourite beverage, or consumed directly from the dropper.
Ingredients:
Sunflower Seed Oil, Natural Orange Flavouring, Vitamin D3, Vitamin E (as dl-Alpha Tocopherol).
Free from:
No Artificial Colours, Flavours or Sweeteners. No Preservatives. No added Sugar or Salt. No Milk, No Lactose, No Soya, No Gluten, No Wheat, No Yeast, No Fish, No Porcine.
Advisory information:
Food supplements must not be used as a substitute for a varied and balanced diet and a healthy lifestyle. If you are pregnant, breastfeeding, taking any medications or under medical supervision, please consult a doctor or healthcare professional before us
Nutritional Information
Each serving 4 drops contains:
Vitamin D
10µg (400 I.U.) 200% RDA
Each serving (10 drops) contains
Vitamin D
25µg (1,000 I.U.) 500% RDA
RDA = Recommended Daily Allowance