Optimum Nutrition Serious Mass Powder Chocolate Peanut Butter 2.73kg
€42,95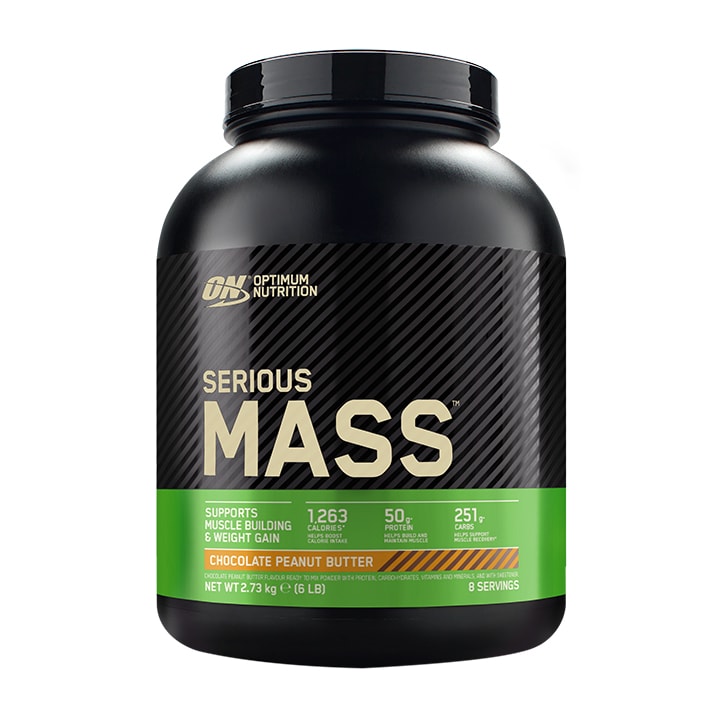 Description
Optimum Nutrition Serious Mass
For Muscle Building & Weight Gain
More than 1260 kcal per serving to help boost your calorie intake

50 g protein per serving to help build and maintain muscle
Serious weight gain requires serious calories. However, those who need the extra calories most often have the toughest time consuming enough of them. For many aspiring to be bigger, SERIOUS MASS is the ultimate in weight gain formulas. With 1,250 calories per serving to boost daily calorie intake, 50g high protein to support muscle growth and repair, over 250g carbohydrates, and now with 3 g added Creatine to support performance per serving, you've got nothing to lose and lots to gain. It is time to stop thinking small and get serious – SERIOUS MASS
Use Anytime, it is quick, convenient and easy to prepare. Serious Mass is ideal between meals, after weight training as part of your recovery routine and before bed. Just mix two scoops of Serious Mass (334g) with 710ml of water to create a tasty, calorie-packed shake.
Additional Info
Directions:
Add 2 heaped scoops (330 g) of Serious Mass to a blender filled with 710 ml of water. Blend for 45-60 seconds. Then add a few ice cubes and, if desired, other calorie-contributing ingredients and blend for an additional 30-45 seconds. TIP: New users may find it beneficial to begin with ½ a serving daily for the first week and then gradually increase to 1 or more full servings several times a day.
Ingredients:
Maltodextrin, Whey Protein Concentrate (milk), Calcium Caseinate (milk) (Emulsifier: Soy Lecithin), Fat-Reduced Cocoa Powder (2.3%), Flavouring, Minerals (Sodium Chloride, Dipotassium Phosphate, Ferric Pyrophosphate, Zinc Oxide, Cupric Gluconate, Manganese Sulphate, Chromium III Chloride Hexahydrate, Potassium Iodide), EGG Albumen, Medium Chain Triglycerides, Creatine Monohydrate, Choline Bitartrate, L-Glutamine, Glutamine Peptides [Wheat], Whey Powder (milk), Inositol, Vitamin Blend (L-Ascorbic Acid, Nicotinamide, DL-Alpha-Tocopheryl Acetate, Calcium D-Pantothenate, Pyridoxine Hydrochloride, Riboflavin, Thiamin Hydrochloride, Retinyl Acetate, Pteroylmonoglutamic Acid, D-Biotin, Cholecalciferol, Cyanocobalamin), Sweetener (Sucralose).
For allergens, see ingredients in bold.
Remember to:
We go to great efforts to ensure that the information on this page is accurate at the time that the page was last edited. As we are constantly reviewing and developing our products to meet our consumer needs, consumers, particularly those that suffer from allergies and intolerances, should always check product labelling, warnings, and directions provided with the product that is delivered, prior to use or consumption.
Nutritional Information
| | |
| --- | --- |
| Per | 100g / 330g serving |
| Energy (kJ) | 1596kJ / 5266kJ |
| Energy (kcal) | 381kcal / 1259kcal |
| Fat | 1.6g / 5.3g |
| Of which saturates | 0.9g / 3.1g |
| Carbohydrate | 76g / 252g |
| Of which sugars | 7.8g / 252g |
| Fibre | 0.7g / 2.4g |
| Protein | 15g / 50g |
| Salt | 0.58g / 1.91g |
| Vitamin A | 91.7µg / 303µg |
| Vitamin D | 0.57µg / 1.9µg |
| Vitamin E | 1.1mg / 3.7mg |
| Vitamin C | 6.7mg / 22mg |
| Thiamin | 0.16mg / 0.52mg |
| Riboflavin | 0.19mg / 0.61mg |
| Niacin | 2.1mg / 6.9mg |
| Vitamin B6 | 0.23mg / 0.74mg |
| Folic Acid | 21.7µg / 71.6µg |
| Vitamin B12 | 0.14µg / 0.46µg |
| Biotin | 17µg / 55µg |
| Pantothenic Acid | 0.67mg / 2.2mg |
| Potassium | 414mg / 1360mg |
| Chloride | 335mg / 1110mg |
| Calcium | 123mg / 407mg |
| Phosphorus | 180mg / 596mg |
| Magnesium | 20.2mg / 66.6mg |
| Iron | 2.8mg / 9.2mg |
| Zinc | 1.2mg / 4.1mg |
| Copper | 0.26mg / 0.85mg |
| Manganese | 0.18mg / 0.59mg |
| Selenium | 3.3µg / 11µg |
| Chromium | 43µg / 140µg |
| Iodine | 15µg / 51µg |
| Sodium | 231mg / 763mg |