PE Nutrition Performance BCAA Powder Strawberry & Watermelon 300g
€22,95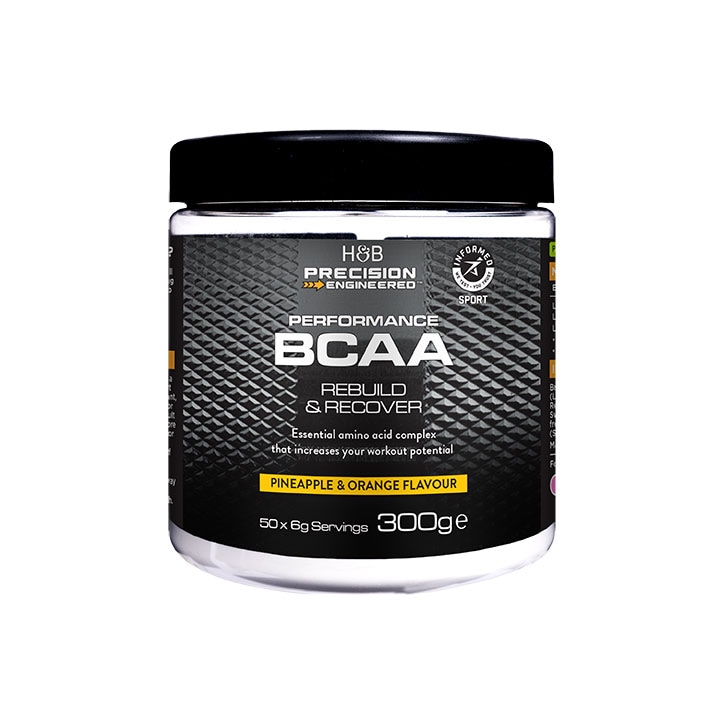 Strength, Flavor or Colour: Strawberry & Watermelon
Description
Essential amino acid complex to grow your workout potential
5g of BCAA's per 6g serving following industry-standard ratio: 2:1:1
Refreshing strawberry & watermelon flavour
Why choose performance BCAA Powder – Strawberry & Watermelon?
Ensuring you get your daily BCAAs doesn't have to be a bore – enjoy them with taste of summer sweetness in this refreshing Performance BCAA Powder. PE Nutrition performance BCAA powder makes it easy to always stay topped up on your essential branched chain amino acids, and it tastes pretty great too! This blend follows the industry-standard ratio of 2:1:1, which means each serving contains:
2,535mg Leucine
1,267mg Isoleucine
1,267mg Valine
**Per 6g scoop It's formulated like this so you can enjoy a scoop before you work out to perk you up, during your workout to give you extra fuel and post workout to help support muscle health. Simply add a scoop of this powder to your shaker and then add plain water or another beverage that you like – perhaps a complementary squash or some diluted juice – and shake it up to get it smooth and ready to drink. It's 100% vegetarian quality assured and aspartame-free, too!
Why do you need BCAAs?
About 1/3 of the protein found in your muscles is made up of Branched Chain Amino Acids (BCAAs). These special amino acids cannot be produced by the body and so must be obtained through your daily diet. When you take BCAAs, they get straight to work in your muscles, as they do not need to be processed in the liver like other essential amino acids do. The 3 BCAAs are:
Leucine
Isoleucine
Valine
While a complete protein source, like soya, diary or meat will naturally contain these BCAAs, it can be effective to top up with a BCAA supplement.
What are the benefits of BCAAs?
BCAAs can be helpful for all types of sports and exercise workouts, whether you are cardio training or weightlifting. They are the key components in protein synthesis allowing you to maintain and build your muscle efficiently so you can go again and smash your fitness goals!
When should you take BCAA powder?
The general consensus on when is best to take BCAAs is to consume them immediately before and after your workouts, as well as during. That is why this BCAA powder has been formulated so you can increase your workout potential with 1 scoop of BCAA before, during and after your workouts.
Additional Info
Our promise to you:
Mélangez 1 ml de l'extrait avec une petite quantité d'eau 3 à 5 fois par jour, de préférence pendant le repas. Ne pas dépasser la dose journalière recommandée.
Directions:
Add one (6g) scoop of powder to 300ml of water or your preferred beverage. Suggested use: 6-12 grams pre workout, 6-12 grams during workout and/or 6-12 grams post workout.
Ingredients:
Branched-Chain Amino Acids (43% L-Leucine, 22% L-Valine, 22% L-Isoleucine), Acidity Regulator: Citric Acid, Malic Acid; Flavourings, Emulsifier: Lecithins; Sweeteners: Sucralose; Color: Beetroot Powder. May contain traces of milk, soy and egg. For Allergens - see ingredients in bold
Suitable for:
Vegetarian Quality Assured
Advisory information:
Ensure adequate hydration during and after training - Minimum of six to eight glasses of water daily.
Remember to:
We go to great efforts to ensure that the information on this page is accurate at the time that the page was last edited. As we are constantly reviewing and developing our products to meet our consumer needs, consumers, particularly those that suffer from allergies and intolerances, should always check product labelling, warnings, and directions provided with the product that is delivered, prior to use or consumption.
Nutritional Information
| | |
| --- | --- |
| Per | 6g |
| Energy KJ | 93KJ |
| Energy Kcal | 22Kcal |
| L-Isoleucine | 1,299mg |
| L-Leucine | 2,597mg |
| L-Valine | 1,299mg |
| Also Contains | negligible amounts of fats, carbohydrates, protein and salt. |