Holland & Barrett Chewable Acidophilus Strawberry (3 Billion) 120 Tablets
€12,95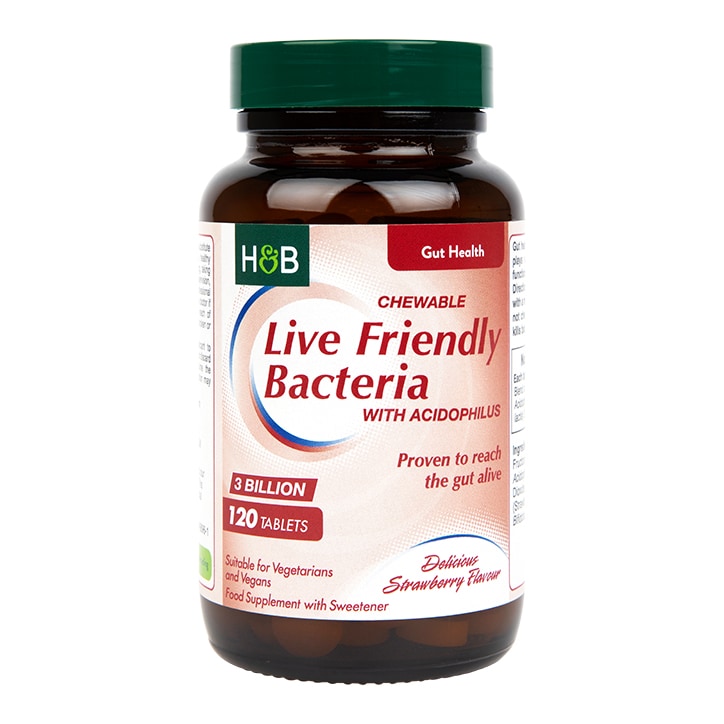 Strength, Flavor or Colour: Strawberry3
Description
What is it?
Holland & Barrett Chewable Acidophilus Strawberry flavoured tablets contain 3 billion live, friendly bacterial cultures, proven to reach the gut alive. These helpful bacteria are not only good for your gut health, but it is thought that gut health may also influence your overall health and wellbeing too.
Boosts Your Natural Friendly Bacteria
Friendly Bacteria Proven to Reach the Gut Alive
Suitable For Vegetarians and Vegans
What Are the Benefits of This Supplement?
The bacteria in this dietary supplement come from the Lactobacillus and Bifidobacterium families of bacteria, the formula uses scientific technology to ensure that they reach the gut alive.
The environment where these microorganisms live (and the bacteria that live there) are called the gut microbiome or microbiota. These microorganisms that live in your intestines and digestive tract are collectively known as the gut microbiome, and it is important that you keep this well balanced for your overall digestive health. Taking a supplement can help with this.
There are a number of lifestyle factors which can affect the delicate balance of the gut. These include your diet, your age, medication, smoking, drinking alcohol and physical activity. If you think your gut health could do with a helping hand, then it might be time to add a friendly bacteria supplement to your daily routine and this one fits in seamlessly.
Holland & Barrett International Limited, Barling Way, CV10 7RH, UK
Holland & Barrett Limited, 45 Henry St, D01 E9X8, Ireland
Additional Info
Directions:
Take 1 Tablet(s) per day, preferably with a meal. Do not exceed stated dose.
Advisory Information:
Food supplements must not be used as a substitute for a varied and balanced diet and a healthy lifestyle. If you are pregnant, breastfeeding, taking any medications or under medical supervision, please consult a doctor or healthcare professional before use. Discontinue use and consult a doctor if adverse reactions occur. Keep out of reach of children. Do not use if seal under cap is broken or missing. This product contains a desiccant to absorb moisture, therefore do not discard the desiccant. Do not consume the desiccant.
Ingredients:
Sweetener (Sorbitol), Fructooligsaccharides, Lactobacillus Acidophilus, Anti-Caking Agent (Magnesium Stearate, Silicon Dioxide), Natural Flavouring (Strawberry), Bifidobacterium animalis subsp. lactis, Natural Flavouring (Vanilla).
Suitable for:
Vegan, Vegetarian
Remember to:
We go to great efforts to ensure that the information on this page is accurate at the time that the page was last edited. As we are constantly reviewing and developing our products to meet our consumer needs, consumers, particularly those that suffer from allergies and intolerances, should always check product labelling, warnings, and directions provided with the product that is delivered, prior to use or consumption.
Nutritional Information
Each 1 Tablet(s) contains
Lactobacillus Acidophilus
3.00 mg
Bifidobacterium animalis subsp. lactis
3.00 mg