Manuka Lab Manuka Honey MGO 300 500g
€70,95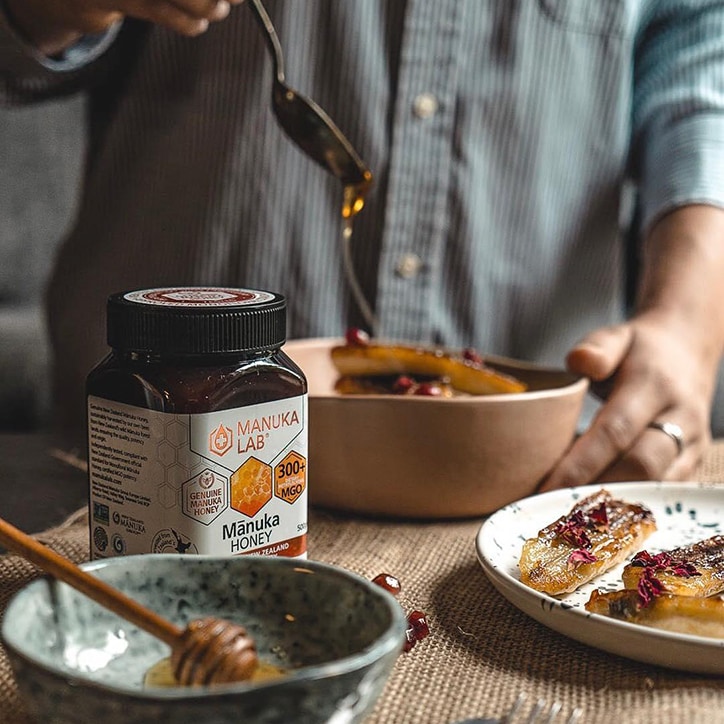 Description
Manuka Lab Manuka Honey MGO 300
You have probably heard plenty about manuka honey, in recent years. A natural alternative to sugar, highly beneficial food not just for spooning into your morning porridge.
Made by bees who have feasted on the nectar rich Leptospermum scoparium, the manuka bush is native to New Zealand, where indigenous Maori people have used its nectar as a natural remedy for over 4000 years.
Employed in different ways depending on your requirements, Manuka Lab's authentic manuka can be stirred into tea, drizzled on yoghurt or eaten straight from the spoon.
Alternatively you might choose to use it directly on your skin or hair, to harness its beautifying talents.
Manuka honey for its unique properties
Manuka honey is famously antibacterial and antimicrobial. All those antis add up to a plus, making manuka a must have in your home.
All types of honey are thought to act effectively as to help soothe sore throat. A source of fructose which leads to lower blood glucose rises compared to foods containing sucrose and glucose
These incredible abilities are also what makes manuka successful.
Manuka honey for skin and hair
Manuka honey's low pH in combination with its antibacterial capabilities make it a skin care wonder product.
Used as a mask, facial wash or as an on-the-spot treatment, this honey is known to keep the skin hydrated, soften the skin.
As a natural humectant and emollient, manuka honey can help achieve beautifully smooth hair too.
Why choose Manuka Lab honey?
We know that manuka honey price points are high, but in choosing a genuine product and a high MGO, you are getting all the great benefits of a powerful natural product that just happens to taste great too.
Manuka Lab honey is tested by an internationally accredited laboratory, approved by the New Zealand government.
As well as ascertaining its manuka roots, Manuka Lab's product is also checked for dietary methylglyoxal (MGO) levels. The higher your manuka honey grade the more potent its capabilities.
Jars of Manuka Lab, whether you purchase in store or buy manuka honey online, are printed with the Mānuka Originz quality mark. This gives you the ability to trace your honey straight back to the very hive that produced it, 11,000 miles away.
Additional Info
Directions:
Store below 21 ̊C in a cool dry place.
Advisory Information:
Suitable for vegetarians. Do not feed honey to infants under one year of age. Do not use if cap seal is tampered with or broken.
Ingredients:
Fully traceable New Zealand Manuka Honey
Remember to:
We go to great efforts to ensure that the information on this page is accurate at the time that the page was last edited. As we are constantly reviewing and developing our products to meet our consumer needs, consumers, particularly those that suffer from allergies and intolerances, should always check product labelling, warnings, and directions provided with the product that is delivered, prior to use or consumption.
Nutritional Information:
Per 100g:
Per Tablespoon (15g):
Energy
1375kj / 329kcal
Fat
<0.1g
of which saturates
<0.1g
Carbohydrates
78.5g
of which sugars
76.2g
Fibre
nil
Protein
0.2g
Salt
trace
Energy
206kj / 49kcal
Fat
<0.1g
of which saturates
<0.1g
Carbohydrates
11.78g
of which sugars
11.43g
Fibre
nil
Protein
0.03g
Salt
trace
Free From
Dairy Free